UG
Bachelor of Arts (BA)
Duration: 3 years
B.A. 1st Semester (Three Year Degree Course)
A student who has passed Higher Secondary Examination in Arts/Science/Commerce or any other equivalent examination.
Intake Capacity: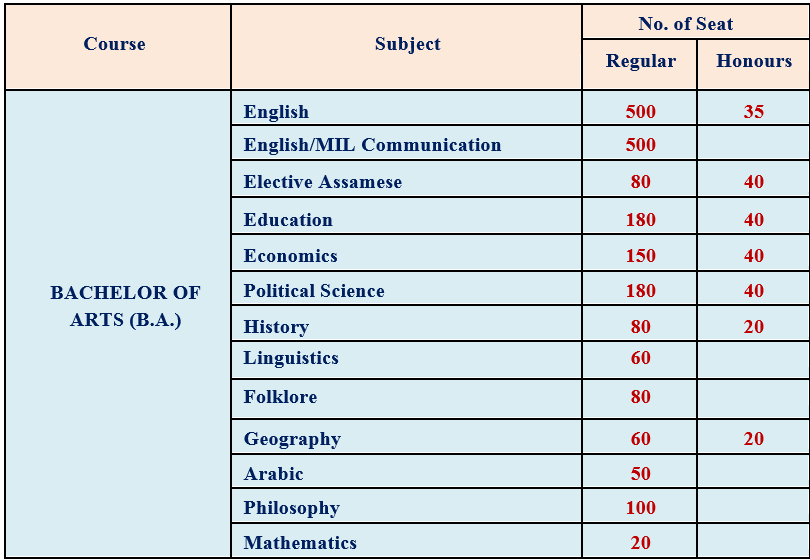 Subject Combination
THREE YEARS DEGREE COURSE (ARTS) FOR REGULAR COURSE UNDER CBCS. The following subjects are offered in TDC Course (Arts):
These subjects will be Discipline Specific Course (DSC) or Generic Elective (GE).
MIL (Assamese), General English, Alternative English & Environmental Studies, Economics, Education, Folklore, Geography, History, Linguistics, Mathematics, Political Science, Elective Assamese, Arabic & Philosophy.
The following subjects are offered in T.D.C Course as Honours course (Arts): Assamese, English, Economics, Education, Geography, History, Political Science.
TDC in (Arts) as per Under Graduate Choice Based Credit System (UGCBCS)
The CBCS provides an opportunity for the students to choose courses from the prescribed courses comprising core, elective or skill based courses. As per decision of GU, CBCS is going to be introduced in TDC (BA) Course from 2019-20 Academic Session and B. Sc. From 2020-21 academic session as per GU guidelines. The Undergraduate course has been termed as Honours course and Regular Course. In line with the UGC's guidelines, the courses are categorized as Core courses, elective courses and Ability Enhancement courses.
Core course is compulsory both for Honours and Regular program.
Elective course can be chosen from the subjects available in the college.
It is of 3 types:
Discipline specific elective (DSE)

Generic Elective (GE) (may not be related to discipline.
Dissertation/Project.
Ability Enhancement Course (AEC):
It is of 2 types.

Ability Enhancement Compulsory Courses (AECC) and
Skill Enhancement Courses (SEC)